Live at Cornerstone 2000 Gene Eugene / Adam Again Tribute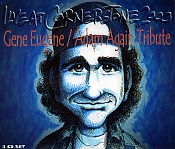 ---
It was one of the most anticipated events in the history of the Cornerstone festival. Why, then, was everyone so sad?
Adam Again had been booked to return to the festival and their fans were rocked. Front-man, and creative core Gene Eugene had promised them a brand new Adam Again album in time for the fest. This was sure to be an event for the history books.However, someone had different plans. Gene passed away from a massive brain aneurysm on March 20th of this year. As the shock of losing someone as young and vital as Eugene was spreading across the country, many people's thoughts turned to the band's slot at Cornerstone. What would happen? How would people deal with it? Who would possibly get up on stage to replace Adam Again?
But there was really never any question. The remaining members of Adam Again knew that they would somehow still do the show. It took a few days to coordinate, but eventually it was decided that the rest of the band would perform a short set with Riki Michele handling vocals. Then they would have various other friends and cohorts of Eugene's come up and pay tribute. Thus Paul Valadez, Greg Lawless, John Knox, Dan Michaels and Riki Michele, five sixths of one of the most influential and important bands ever to hit the scene, threw one last bash for Gene. He would have loved it.
While Riki Michele handled the lead vocals on the first few songs, Over The Rhine's Karin Bergquist handled the harmonies. Then a steady stream of talent came and went. There was Andy Prickett wailing away on the guitar the whole time. Undercover's Joe Taylor and Sim Wilson, Michael Knott, Mike Roe, Derri Daughtery, and Steve Hindalong. Though none sounded like Gene, in a way, they all felt like him. When the last song was done the stage was stricken bare and a haunting film montage of images of Gene set to the studio track "River On Fire" filled the stage. And then, like the life it was honoring, it was over.
More than a few tears were shed, and will be again at the re-living of the evening. Gene "Eugene" Andrusco will not be forgotten.
John J. Thompson
Adam Again live at Cornerstone 2000, 1997 & 1995
The Band / Additional Musicians:
Disc 1: Derri Daugherty - lead vocals (track 5), Steve Hindalong - lead vocals (track 6), Michael Knott - lead vocals (tracks 12, 13, 14, 15 and 16), Jon Knox - drums, Greg Lawless - lead guitar, Riki Michele - vocals (lead vocals tracks 1 and 2), Mike Roe - lead vocals (tracks 7, 8 and 9), Paul Valadez - bass, Sim Wilson - lead vocals (track 10)
Discs 2 and 3: Gene Eugene - vocals, guitar, Jon Knox - drums, Greg Lawless - guitar, Riki Michele - vocals, Paul Valadez - bass
Disc 1 - The 2000 Show
Strobe
Dance Around In Circles
Worldwide
Hide Away
Deep
Dig
Stone
Don't Cry
Hopeless, Etc.
It Is What It Is (What It Is)
Homeboys
Relapse
All You Lucky People

Disc 2 - The '97 Show
Hopeless, Etc.
It Is What It Is
Deep [false start]
Improv while Gene fixes his guitar
Deep
All You Lucky People
Strobe
Stone
Worldwide
Dig
Dance Around In Circles
Homeboys
River On Fire
So Long
Disc 3 - The '95 Show
Occam's Razor
Dig
Deep
Beat Peculiar
Dance Around In Circles
Ain't No Sunshine
So Long
Hidden, Hidden
Stone
It Is What It Is (What It Is)
---
ADAM AGAIN
"Live at Cornerstone 2000 -
Gene Eugene / Adam Again Tribute"
Millennium Eight 2000