In A New World Of Time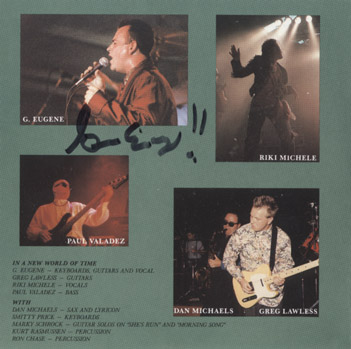 ---
---
Adam Again ~ In a New World of Time
---
Life In The First Degree

They tell me I ought to go
I tell them they just don't know
Now that we're together
I have to stay
When I think of the things I do
I need nothing more from you
just to be forgiven is enough for me
So I'll sing in the streets
And dance in the aisles
And celebrate what will be
You're my only hope, your Love everlasting
Life in the First degree
I looked for a way for years
Alone with my bitter fears
Blamed it on the weather, on what went wrong
When everything fell apart
You were there to repair my heart
And now that we're together
I have to stay
---
She's Run

Mother stares at the empty bed
Still haunted by the words her daughter said
"I'm leaving, 'cause nobody understands
The anger that's inside of me, sometimes it's
More than I can comprehend."
Her father drives down the Boulevard
He shows her picture to the corner crowd
"Has anyone seen my little girl,
We only want her to come home
We only want to tell her how we feel."
Now, now that she's run away
Her house is cold and dark
Her parents hardly talk
She's in a city far away
She says she'll never go home
But tonight she'll cry herself to sleep
She sleeps in the streets,
She sleeps in the doorways,
She sleeps with men she doesn't know
Every once in a while she thinks about home
Maybe she'll call tomorrow
Maybe she'll never call
---
Your Line Is Busy
The line to your heart is just like a telephone
Everything is all tied up
Tied up in miserable knots
Like the world that we live in.
Not so long ago you used to listen to His call
And now it's not the same
I think you've lost control
But still I constantly dial your number
Something has knocked your life right off the hook
Cause deep inside you know it's ringing
Your line is busy - trying to get thru to you
Your line is busy - I wonder who you're talking to
Your line is busy - I'm running out of things to do
I can't get thru to you
---
You Can Fall In Love

All your life, you've waited to know
Something real, or someone who would show you
Something your heart could feel
People let you down, love never true
They tried a tomb - it wouldn't hold Him
They tried a stone - it rolled away
They tried a rumor - we wouldn't believe it
They tried a lie - we knew the truth
That He was God, and nothing less
He came to fill your emptiness
His Love has stood the test of time
Now it can stand the test of your mind
Tears can be washed away
Believe - you can fall in love
Like you've always dreamed
You can fall in love - if you just believe
On the cross the man of your dreams
Dies in shame, in love with us all
Willing to take the blame
Dying to give
Love ever true
---
In A New World Of Time

Years go by like minutes
You never do the things you want to do
Hours pass like seconds
You never get to where you wanted to
Times the ruler of the Old World
Today is the beginning of the end
If you're finally ready to, it's time to make
The move into the new world
---
Walk Away

Tonight is the night
You choose who to follow
That hole in your heart
Tonight can be filled
Think all you want
It won't change what is real
Forever - Remember
This was the night for you
I see your tears, I hear your cry for help
Just one more step
But every time you turn around and walk away
Walk away, You always walk away
Walk away, Again you walk away
You know why you're here
The Father has called you
There's no guarantee
Tomorrow your heart might just stop
How many more chances do you think you'll have
Remember - Forever
This was the night for you
---
Miracles

Water into wine
Food for the hungry, sight for the blind
Steps for the lame, living from the dead
"Lazarus come forth," He said
Storms at sea at calmed by His word
He told them He'd rise from the dead
In three days, and He did it.
What more can you need?
It's truer than history
That should be all you need
But you want to see a miracle
I was alone, living for nothing
I needed to die
God took my heart, showed me His love
He gave it all to me
God's love filled me. Changed me inside out
If that's not a miracle tell me what it is
He did it for me, He did it for free
If you need to see some proof
That should be all you need Two thousand years of signs and wonders
All for you to see
Your miracle waits for you
That will be all you need
But you want to see a miracle
---
Morning Song

Day
The day begins, I'm only half awake
Grey
The color of the fading darkness
The risen Son I call his name
And when I look up I expect to see
The morning star above me
I try to find the words
I can't even speak except to say
Hallelujah
Sometimes I sing by myself
Sometime we sing together
I want to make some noise
I want to stir it up
Pray
I thank the Lord for another chance to wake
Try
To say I want to be a servant
But I cannot even speak
Hallelujah
---
(God Can) Change Your World

I've got a friend in L.A.
He's got problems, everyone knows
He laughs while we're together
But he cries when he's all alone
That empty feeling is all he remembers
He's always saying he's going to change
I tell him "Talk is cheap,
Your life is expensive, the price was paid
By Jesus with His blood."
I know God is real
I now a young girl
She's real happy, she's got lots of friends
She's an American girl
Life's just a party, the fun never ends
Sure
Late at night she cries in her bedroom
Wonders if anyone would care if she took her life.
"Don't do it, you're being lied to,
There is a love that's real, that you can feel."
I know God can change your world
---
Reason With Me

You say that God means nothing to your life
But that's in the daytime
But what about the tears that fill your eyes
In the middle of the night
When you're awakened by the voice of God
Demanding a decision
"If you reason with me,
You'll see my love is for real."
You say that you're the only one you need
You say you're an island
But then I watch you staring at the walls
And I know your heart is breaking
Won't you listen to the Voice of God
As it whispers your forgiveness
"If you reason with me,
You'll see my love is for real."
---
IN A NEW WORLD OF TIME
G. EUGENE - KEYBOARDS, GUITARS AND VOCALS
GREG LAWLESS - GUITARS
RIKI MICHELE - VOCALS
PAUL VALADEZ - BASS
WITH
DAN MICHAELS - SAX AND LYRICON
SMITTY PRICE - KEYBOARDS
MARKY SCHROCK - GUITAR SOLOS ON "SHE'S RUN" AND "MORNING SONG"
KURT RASMUSSEN - PERCUSSION
RON CHASE - PERCUSSION
---
Produced by: Gene Eugene

IN A NEW WORLD OF TIME RECORDED BY WALLY GRANT AT ASAPH RECORDING
DURING MARCH 1986
COVER PAINTING BY HOWARD FINISTER, SUMMERVILLE, GA. ALL SONGS COPYRIGHT 1986
CHENKA, CHENKA MUSIC.
An Adam Again independent recording.