HOMEBOYS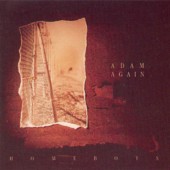 If someone has a better scan of this I would appreciate it.
---
---
---
Homeboys

In the summertime on the street where I grew up
There were black guys and white boys and Mexicans
And we'd love to make a football game, lightpost to
lightpost
"Here comes another car, get out of the way again"
We'd never miss a day, and hardly missed a
night
Of talking about each other's sisters under the
streetlight
Didn't care about the world
Didn't matter about nobody but the homeboys
The tiny and the strong
Everybody knew that they belonged with the
homeboys
I used to walk to high school every day with
Jerry G.
We had sort of a connection I think
He taught me how to write on the wall
I taught him how to play chess
Some kind of strange urban link
We'd never missed a day of those twenty-minute
talks
'Til a fifteen year old drive-by shooter took him off
our block
Hang your head and hide your eyes
Watch a thousand cars go by with homeboys
We learned of loss that day
Everybody knew that things had changed for the
homeboys
Didn't care about the world
Didn't matter about nobody but the homeboys
The tiny and the strong
Everybody knows that they belong with the
homeboys
---
The Fine Line

Everybody get in line, it's blind leads blind
Everybody drop a dime to ease your mind
The weatherman say it's gonna be warm today
What I'd give for a little rain
Here I sit
Torch in hand
I'm living in the devil's land
Devil in black
Break your momma's back
Feel like a maniac
Sitting in a parking lot, my window open
It's always been my lucky spot, tonight I'm hoping
The weatherman say it's gonna be the same today
What I need is a little change
Can I stop?
Will I try?
Or burn on the rock until I die
Devil in black
Break your momma's back
Feel like a maniac
Cross the fine line
Break your momma's spine
What's controlling your mind?
Here we go again
One time
Two times
Chaos
---
Hide Away

Do you hide away because I just won't feel you?
Darlin' I'm touching you now
I just don't know how to be near you
Baby, come close
Summer is Winter
Flowers wither, stars fade
When you hide away
When you hide your eyes, love
Skies above become grey
When you turn away
When you hide away
What is this?
A season of bliss, betrayal and sorrow
Darlin' I'm holding on tight
Save us tonight, love me tomorrow
Angel, don't hide
---
Bad News on the Radio

Took a walk at midnight
'Cause all day long I've had to lay low
But the keys are on the table
And if you want to leave, you just say so
Got to keep the lights off
Got to keep me in the dark with my eyes closed
Maybe a dream can set me free
Spotlight on the highway
Bad news on the radio
I remember when I met you
Angel eyes that cut me to the soul
You knew me in an instant
Saw my devil heart, but still you wouldn't let go
You tried to make it Heaven
But you followed me to Hell
Listen close
Hear the helicopter fly
Spotlight on the sidewalk
And bad news on the radio
I know you tried to warn me
That we should take what we had
Left and hit the
door
But when homeboy tried to burn me
I had to give him what he asked for
Now I watch you sleeping, Don't wake up and say
goodbye
There's no more
As the sirens arrive
Spotlight on the driveway
Bad news on the radio
---
Inner City Blues

Rockets and moonshots
Spend it on the have-nots
Money, we make it
Before we see it, you take it
Make me want to hollar
The way they do my life
Make me want to hollar
The way they do my life
This ain't livin'
Inflation and no chance
To increase my finance
Bills pile up sky high
Send that boy off to die
Make me want to hollar
Throw up both my hands
Make me want to hollar
Throw up both my hands
Oh, won't you listen to me
Hang ups, letdowns
Bad breaks, setbacks
Natural fact is
That I can't pay my taxes
Crime is increasing
Trigger-happy policing
Panic keep on spreading
And God knows where we're heading
---
Dance Around in Circles

Everbody, get together
Listen to me and I'll hear you
Shaded by the same umbrella
Smile about the way that we do
I can see around the world
Let's dance around in circles
Every boy and every girl
Hands in the middle
Let's dance around in circles
Everybody, we got to work together
Got to get this thing off the ground
Spirit flows, forget the weather
I believe we can turn it around
Me and you got to stay together
I got to have you here at my side
Besides, who's gonna feed our big gorilla?
Who's gonna wipe the tears from your eyes?
Hands in the circle, feel the sound
In the circle, dance around
---
This Band is our House

Rhythms coursing through my veins
Melodies forming in my brain
This is where we live
Big dog chase us through the ally
Frankfurt, London, back to Cali
This is where we live
Where can we go?
(We ask ourselves)
Where we will not be desperate and cold?
Has God given us somewhere to call a home?
If you can do it, I can do it too, And we can do it
If you can do it, I can do it too, and we can do it
If someone will hold the nail, I'll hit the hammer
on two
We'll tie the big dog up by the tail
Until we find a way to get through
We got a guitar on the left, guitar on the right
And the bass in the middle of the mix
I haven't heard a Fender Rhodes this funky since
1976
I think 118 beats per minute might do the trick
With Jonny Knox and hype kick drum laying the
groove so thick
Got to keep it funky
We've got our hopes up in the attic
This is where we live
This band is our house
---
Save Me

Dug too deep to climb out now
Save me, Jesus, save me
The hill's too steep
Keep sliding down
A broken heart
I'm spilling out
Don't try to catch me
Let me hit the ground
Flow and die
Please don't cry
---
Occam's Razor

I will paint you in a corner
In a room where the light is on
You will see love stands to reason
You can feel it inside
I think you've known it all along
When I touch you with Occam's razor
I will cut you between truth and lie
And I will get through with Occam's razor
Cut your soul from the heart of darkness
Now keep your eyes wide open
When reason kills the lie
I've answered all your questions
Don't you cry sweet baby
Everybody's gotta die
It's gonna hurt bad for a while
---
No Regrets

I think about you often
But I don't know what to do
'Cause I don't have the courage
Or I don't have the strength to make it up to you
It's a solitary part I'm playing
Born an actor
But what a foolish line I am so fond of saying
"I've no regrets"
If I could do anything again, anything at all
I would never let time take you so far away
I've got a picture of you in '62
With a baby on your knee
The faces are familiar, they remind me of my loss
I am a refugee
Now everybody listens to me
I keep waiting for the day when they'll all see right
through me
And my "No Regrets"
But if I could be anyone again, anywhere at all
I would be that child in your arms
I got a woman who loves me
I got the pink slip for my car
I got a little place, the rent is cheap
I got a band who play my songs
Life's not so hard
But in the rear view mirror a bridge is burning
And now I've wasted another year
The hardest thing I'm learning about my regrets is
Thought I cannot do anything again, Anything at
all
Today I could have, I should have made that call
I should have made that call
---
HOMEBOYS
G. Eugene - Vocals, Guitar, Rhodes, B-3
Greg Lawless - Lead Guitar
Riki Michele - Vocals
Paul Valadez - Bass
with -
James Werning - Keyboards
Dan Michaels - Saxaphone
Preaching by Rev. Howard Finster, Man of Visions
John Harrelson - Fiddle (Homeboys), Mandolin (Hide Away)
Miles Tackett - Cello (Hide Away and Occam's Razor), Acoustic Guitar (Inner City Blues)
Doug Webb - Saxophone (Bad News on the Radio)
Darrell Mansfield - Harmonica (Occam's Razor)
---
Music by G. Eugene and Adam Again
Lyrics by G. Eugene, except "Hide Away" by Steve Hindalong, "Save Me" by Riki Michele, and "Occam's Razor" by Terry S. Taylor.
"Inner City Blues", music and lyrics by Marvin Gaye and James Nyx.
Recorded Sept.-Dec., 1989 by G. Eugene
Additional Engineering by Paul Valadez, Greg Lawless, Ojo Taylor, and Super C
Studios:
Mixing Lab, Huntington Beach, CA
Neverland, Cerritos, CA
Winetree, Rancho Cucamonga, CA
Pakaderm West, Los Alamitos, CA
Mixed Dec. 8-10, 1989 at Mixing Lab by G. Eugene (with Paul Valadez and Greg Lawless)
"Hide Away" and "Bad News" Mixed Dec. 29, 1989 at Pakaderm East by G. Eugene (with Jeff Simmons)
Additional tape transfers at Icehouse, Upland, CA
Technical Support -
Drums - Steve Hindalong
Rhodes - Dave Hackbarth
B-3 and Leslie - The Pakaderm gang
Assembled by Dave Collins at A&M Studios
Mastered at Bernie Grundman Mastering
Art Direction, Layout and Photography by Bruce Heavin
All songs copyright 1990 Chenka Chenka Music, ASCAP, except "Inner City Blues" copyright 1971 Jobete Music, ASCAP
THANK YOU TO OUR FAMILIES
THANK YOU TO OUR FRIENDS AND SUPPORTERS
THANK YOU TO GOD
We'd like to hear from you and have you on our mailing list
ADAM AGAIN
P.O. Box 2556
Chino, CA 91708
top